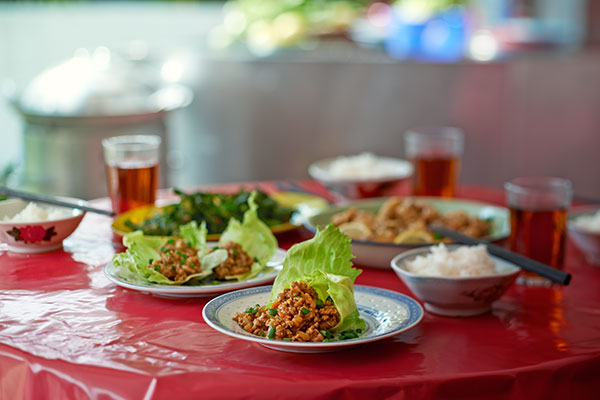 Serves 4
Prep Time: 20 mins Cook Time: 15 mins
Ingredients:
8 lettuce leaves, trimmed to form cups
1 tbsp vegetable oil
1 onion, finely chopped
2 garlic cloves, crushed
600g chicken mince
1 cup finely chopped carrot
225g can water chestnuts, drained and finely chopped
210ml AYAM™ San Choy Bao sauce
Method:
Trim the lettuce leaves to form cups. Keep leaves chilled until ready to serve.
Heat oil in a wok or pan over medium heat. Stir-fry onion for 4 min or until onion has softened.
Add garlic and cook a further minute.
Add chicken, cook until browned, breaking up any lumps.
Stir in the carrot and water chestnuts. Stir-fry for 3 min.
Stir in San Choy Bao sauce and cook for 2 min or until heated through. Season with salt and pepper to taste.
Spoon into lettuce cups to serve and garnish with sliced spring onion.