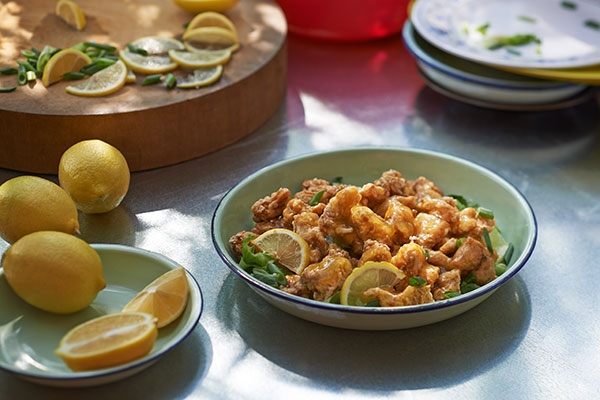 Serves 4
Prep Time: 15 mins Cook Time: 15 mins
Ingredients:
1 egg, lightly beaten
2 tsp AYAM™ Soya Sauce
500g chicken thigh fillets, cut into 3cm pieces
1/3 cup cornflour
3 cups vegetable oil
210ml AYAM™ Lemon Chicken Sauce
1 tbsp toasted sesame seeds
2 spring onions, sliced
Method:
Combine egg and soy sauce in a bowl. Add chicken pieces and stir to coat. Working in batches, toss chicken through the cornflour, shaking off any excess.
Heat oil in a wok or saucepan. Fry the chicken in batches for 4-5 min until lightly golden and cooked through. Drain on paper towel. Set aside and keep warm.
Pour Lemon Chicken Sauce in a fry pan over medium-low heat.
Add chicken, stir gently to coat, cook for 2 minutes or until heated through.
Garnish with sesame seeds and spring onions. Serve with steamed rice.